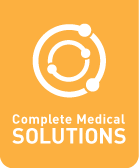 CALL TODAY 1-800-256-2803
Hear what our clients have to say about us.
Our 90% customer satisfaction rate means we don't just offer great systems, we also offer great customer service (real people answer our phones). Successful EHR implementations require a dedicated understanding of your systems and processes and require us to truly get to know you and your practice.... LEARN MORE
Ready10 Translator
The ICD-10 transition impacts every area of your
practice that touches a diagnosis code and the Ready10™ Translator gives you an easy to use and efficient tool to look up and translate codes, store favorites and create documentation aids. Helpful coding tips ensure...LEARN MORE

Complete Medical Solutions
14707 Perkins Rd.
Baton Rouge, LA 70810
Phone: 1-800-256-2803
Fax: 225-752-9998

© Complete Medical Solutions 2016